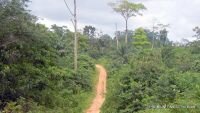 Things were looking up for William Obio when he decided to invest more in his logging business. For the first time in years, his nine children and three brothers were eating well, and he could support his over half-a-dozen team of machine operators, saw men, scouts, and wood carriers.
Such success, rare in Owai, a heavily forested and impoverished community less than 20 kilometres from Nigeria's southern border with Cameroon, emboldened Mr. Obio. He took a chance and purchased a small cassava crushing machine and got more saws.
A wolf in sheep's clothing: REDD questioned in Cross River State, Nigeria
From 28 February to 2 March 2011, Green Concern for Development and Environmental Rights Action (Friends of the Earth Nigeria) organised a forum on Climate Change, REDD and Forest Dependent Community Rights in Cross River State, Nigeria. The forum allowed for a debate on different viewpoints on REDD – and allowed communities to respond to government officials.
In his presentation, Arikpo Arikpo of the Cross River State Forestry Commission told the forum that because of the benefits to communities from REDD, it would be the best thing that has ever happened in the history of forest conservation in the state.
Read more...
"Our forest is not for sale!" NGO statement on REDD in Nigeria
On 18 August 2010, Environmental Rights Action (Friends of the Earth Nigeria, the country's leading environment group) organised a meeting on REDD in Nigeria, together with the Rainforest Research Development and GREENCODE. The meeting produced a statement, signed by 18 NGOs. "Forests and REDD must be out of carbon markets," is the first of a list of resolutions included in the statement.
One of Environmental Rights Action's main focusses is on the oil and gas industry. Nigeria is the largest producer of crude oil in Africa, producing about 2.3 million barrels a day and has plans to expand production to 5 million barrels a day by 2015. ERA has produced a series of reports of gas leaks, oil spills and fires that document the terrible toll that the industry has on communities and their environments. Last year, ERA proposed that the Nigerian government should leave new oil in the soil – a proposal to stop to exploration for new oil in the country.
Read more...